Keys To 

Get Unstuck and
Unlock Your Breakthrough


Free Masterclass




In the video I shared strategies that will help you make sure THIS is the year when you finally break through!

If you're not sure where to start, or you've had so many failed attempts that you're wary of trying again... listen in and be encouraged.
You'll find the help you need to get past obstacles that keep on getting in the way and set yourself up to succeed this time around.
Get ready to take notes because I shared a LOT of really useful strategies that will transform your life if you put them to work for you.
If you really want to discover what's holding you back and what to do about it plan to listen as soon as possible. Schedule the time now.
If you're ready to make THIS the year the thing you STRUGGLE with finally becomes the thing you USED TO STRUGGLE with read on...

NOBODY who goes through Life Breakthrough Coach Training stays the same. Everyone is transformed from the inside out as they apply what they learn and give themselves over to the process.

It truly is one of the best investments you can make in yourself that will benefit you AND other people.
Why? 
Because it opens your eyes to things you haven't seen before and opens the door to places you haven't yet imagined.
It transforms the way you have everyday conversations.
It helps you to deepen your relationship with God as you stop and reflect and invite him to show you what He's highlighting and what He wants you to see.
And so much more
The strategies and tools in this life breakthrough coach training program help you to get past roadblocks and equip you to walk more fully in your destiny.
The training gives you the keys you need to change the course of your life and transform you forever..
You get all the practical strategies and tools you need to ensure you get unstuck—plus the wisdom to know how to use the keys to breakthrough in your life. 
This training really will help put an end to feeling like the life you're meant to live is out of reach!
Christian Coaching transforms lives more powerfully than teaching, or consulting, or pastoral care alone, bringing LASTING, significant, sustainable, life transforming change.


This Life Breakthrough Coach Training Program gives you the keys you need to breakthrough personally while equipping you to effectively coach other people to breakthrough.
BUT our life coach training isn't just for people who want to set up in business as a life coach.
=> Do people turn to you for advice and look to you for solutions?  
=>  When they need a listening ear do they seek you out?
=>  Would you liked to be equipped to help them more effectively? 
Then this effective yet very affordable Life Breakthrough Coach Training is for you! 
If you're a small group leader, minister, parent, or if you teach, or work with people pastorally, or if you're a trained counselor, or have already trained with a secular coach school...
This Christian life breakthrough coach training will better equip you to help the people in your care to change and grow so that they can get unstuck, become who God intended them to be and take hold of what He has for them.
Christian life coaching isn't complicated and you really can learn how to be an effective coach in as little as 10 weeks.
Take a look at what Amanda had to say about the coach training.
This course took me from a place of very little knowledge about coaching to a whole new world of breakthrough for myself and others!!

I loved the course and I love coaching!! I especially love the way that as a result God is beginning to use me to partner with Him to see lives transformed. It is so powerful!
YOU can become a professional fully trained and qualified Certified Life Coach from the comfort of your own home, wherever you live in the world!
What Makes Our Christian Life Coach Training Unique?
Our Christian life coach training is affordable, great value, practical, Biblical, and it's easily accessible wherever you live.
We don't just teach you the theory of coaching we actually train you how to be an effective coach!
Neither do we leave you to fend for yourself once you've completed your training. You get access to continued training and support long after you complete the training program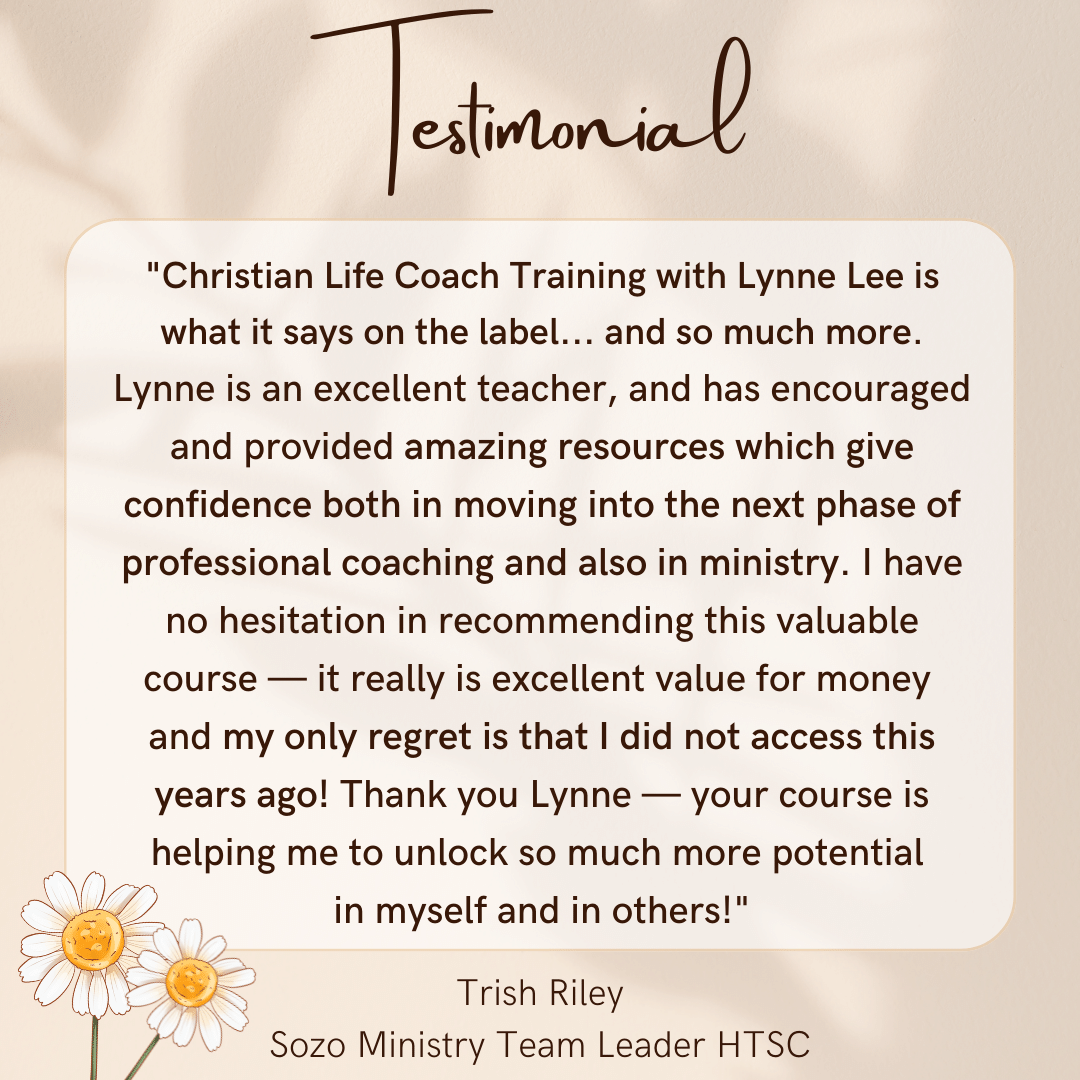 Our Christian Life Coach Training is systematic, yet inspiring, and focuses on coaching around identity, values, life purpose, life balance, choices, overcoming obstacles, and renewing your thinking. It focuses on training you to coach yourself and other people from a Biblical perspective.
There are Christian life coach training programs that cost much more yet give you a lot less.
What Your Breakthrough Coach Training Consists Of
10 pre-recorded online training sessions with an experienced, supportive coach trainer who has your interests at heart. (Each training is around 90 minutes)
Access to extremely helpful videos, audio, coaching exercises, and coaching assessments that enrich your learning experience and save you from having to reinvent the wheel.

Powerful reading assignments that give you life transforming insights so you can coach effectively.

Customizable forms, agreements, coaching exercises, and other necessary documents so that you can get your coaching practice off to a flying start if that's what God is leading you to do.

Lifetime Membership in the Biblical Coaching Alliance™ Coaches Network so you have easy access to ongoing support

Life Breakthrough Academy Biblical Coaching Alliance Directory Listings that help to give you credibility
How To Get Started As A Coach
You also get unlimited access to additional training in marketing yourself as a coach AND live Q & A sessions twice a month so you always have somewhere to go for feedback and support.
We cover everything from getting started as a coach, to online and offline marketing, and creating multiple streams of income.
Life Coaching Curriculum
Introduction to Christian Life Coaching

:What is Christian life coaching? – Coaching versus Other Methods – Benefits of life coaching – Coaching competency creed – Qualifications of a good coach – Who makes a good client

Powerful Life Coaching Techniques

: 

Core coaching competencies – Active listening skills – attitudes, skills & choices – Obstacles to listening – Coaching in the gap – Asking powerful questions
Biblical Identity Coaching: Understanding identity – Identity theft – Biblical vs. secular worldviews – A God-sized perspective
Motivators & Values Coaching: Living life in tune with your values – Owning your values – Values-driven coaching – Core values assessment
Life Purpose Coaching: Discovering your uniqueness – Coaching around life purpose – Self-discovery gifts toolbox – Motivational gifts – Passion indicators & exercises – Reading your life backwards – Permission to dream – Vision & Mission Statements
Obstacles & Habits Coaching: Learn how to spot obstacles that hinder progress. External barriers – Energy drainers – Assessing life balance – Internal barriers – Getting past the barriers – Coaching through change 
Renewed Mindset Coaching: Importance of mindset coaching – The power of a lie – The power of Biblical truth – Coaching through false beliefs
Choices & Goals Coaching: Philosophy of choice – The power of a decision – Choice processes – Questions for change – The power of incremental change – Effective goal setting – Strategic action steps
Powerful Questions & Assessments

: 

Powerful Question Charts – Client Worksheets & Assessments – Goals & Actions Planner 
Coaching For Results – Real-life coaching scenarios  
Practice Building & Coach Marketing: Coaching forms & documents – Marketing & practice building training
Plus ongoing support and access to my private Facebook coaching group
6 BONUS classes
=>  How to get started with your coaching business, including practical steps to help you get your first clients
=>  5 Big mistakes new coaches make when setting up their coaching practice and how to avoid them
=>  Coaching website mistakes to avoid
=>  Getting started as a coach
=>  How to grow your coaching business
=>  Coaching relationships
Next Course Start Date
As soon as you're ready!
I'm offering the course as self-paced-study, because that means there's no waiting for the next course dates and you can get started straight away if now is the right time for you.
This isn't just recorded coach training that you are left to work through on your own!
I have gathered all the replays and resources in one place so you have easy access, and I send an email each week with a short coaching guide that leads you through the process so you always know exactly what to do next.
As long as you plan the training into your week as though it's a live class, and keep the appointments with yourself, it's very doable, and if you need to take extra time to complete each module that's okay.
You also have access to a private Facebook group where you can ask questions and get them answered quickly, get encouragement, be inspired, and maybe even find someone who would be willing to practice coaching with you.
I'm available in the Facebook Group every day and always ready to answer questions so you don't miss out on anything by investing in the self paced version.
I hold live online Q & A sessions twice a month so that you have easy access to me and other coaches on a similar journey. And these live Q & A sessions are ongoing, so you will have access to support long after you've completed your training.
The added bonus of participating in the pre-recorded version of the training is that you can study at a time that's convenient to you.
Students are delighted with the level of support they receive. I personally help you to get to a place where you are skilled and comfortable coaching yourself and others.
You can easily participate in this training from almost anywhere in the world—from the comfort of your own home, your office, on vacation, or wherever you happen to be. All you need is a phone, tablet, or computer.
Summary of What You Get
Comprehensive 10 module training program starting when it suits your schedule.

On successful completion you will be certified as a Certified Life Breakthrough Coach™ or Certified Biblical Life Coach™

Access to a private member site with audio and video replays, PowerPoints, and much, much more

Access to a private Facebook group to connect with and grow with other like-minded people, and get your questions answered.

Live Q & A sessions twice a month.
What's My Investment?
You don't need to pay thousands to get effective quality Christian life breakthrough coach training.
Because of the low overhead of distance learning, the cost of the training is only $897! That's just £750.
Payment options
Click on the payment option button you prefer
Coach Training and Certification
$897 (£750)
Please note this is for pre-recorded training that you can begin IMMEDIATELY I set up your registration and password. That can take between 24 and 48 hours depending on what day and time you register.
You can either pay in full
One Payment of $897
One Payment of £750
OR pay in 3 monthly installments
3 Monthly Payments of $300
3 Monthly Payments £260
I've done everything I can to remove obstacles to you getting started on this life changing journey.

If you really want to add coaching skills to your toolbox but finances are an obstacle right now you can spread the payments over a longer period. Message me and let me know what will work for you and I'll do my best to accommodate you. 
Please note: I am offering payment plans to make life breakthrough coach training accessible to people who really want to do the training but don't have the means to pay in full at the outset. 

When you choose to pay by instalments you are making a commitment to continue making the payments until you have paid in full.
When you've made your payment you will be redirected to the registration page. Be sure to remember to complete your registration information so we can get you started as soon as possible! 
I'm really looking forward to getting to know you and help equip you to effectively coach yourself and other people to breakthrough.
What You Will Learn In This Christian Life Coach Training
The difference between Christian life coaching and Christian counseling.

Active listening skills and how really listening validates and encourages people.

How to ask powerful life coaching questions that lead to better answers.

How to use our Breakthrough Coaching Process.

How to see and bridge the the gap between negative self-esteem and true Biblical identity.

The importance of values and how they influence everything you do.

You will learn about tools to help you identify your life purpose and fulfill your God given dreams.

How to spot hindering external obstacles that get in the way of progress.

The most common lies people believe, how they limit success, and how you can replace the lies you believe with life giving truth.

How to make healthy choices and turn them into effective strategies.

You will also learn about marketing, promoting coaching services, and creating coaching products.
How You Will Learn To Be A Christian Life Coach
All 10 classes last for around 90 minutes - 120 minutes,

I 

provide outline notes for these sessions

 

and recommend that you take additional notes as I teach.

 Other than the 2 set books all the materials you need are provided.

The teaching sessions are available for you to listen to as often as you like.

Our trainees have access to a private student area that houses pre-recorded audio, coaching assignments, and downloadable resources.

You will have reading, audio, and coaching assignments each week.

You learn to coach by coaching. 

From week 3 we ask you to practice coaching yourself and other people as part of your training but we don't expect you to do that with an audience. 

If you want to become a certified life coach you will need to complete the course summary exam at the end of the training. It's open book, we're looking to test understanding rather than memory. You will also need to submit two examples of coaching conversations. I give you examples so that you have good practice to model.
What Your Certification Will Be
You will be certified as a:
Certified Life Breakthrough Coach™ 

Certified Biblical Life Coach™
The choice is yours, whichever best suits you.
Past students have included stay at home mums, teachers, home schooling mums, home group leaders, pastors, doctors, lawyers, hairdressers, trained counselors,  coaches who trained with secular schools, therapists, and even a Consultant Psychiatrist!
Without exception they experienced significant personal    transformation as they applied the coaching strategies they were learning to their own life. And they discovered the power of asking rather than telling in every day interactions. Coaching tools are an invaluable addition to your toolbox.
Marriage coach training is available to students who have completed the core course. That involves 7 additional sessions. You'll find details here:
Christian Marriage Coach Training
What graduates have to say
"Christian Life Coaching Training has revolutionised the way I see and deal with people. I have learnt so many skills to help others move through change and to become more of who they are created to be.

It taught me a great deal about myself and how I relate to others in my sphere of influence. It has transformed my relationships, has helped me to set boundaries and to live with purpose while encouraging others towards their own God-given dreams.

This is a wonderful course that I highly recommend to anyone and everyone, especially those who would like to use this knowledge as a career or who would like to simply improve their relationships.

Lynne is a fantastic teacher who is very clear and concise in her training, is an expert and very knowledgeable in her field. I have not trained under anyone more pleasant, enthusiastic and caring. If you want to help and encourage others, this is the course for you!" Donna Cole - Australia

---

I can honestly say that I was not disappointed. The course was very detailed and thorough. Lynne delivered the course brilliantly and she always gave time to ensure all our needs as students were met. I felt fully supported and very happy with the course content. I learned so much not only on a professional level but also on a personal level. I have grown emotionally as a result of the training and that has had a positive effect across my whole life. AK London

---

I have loved this Life Coach training class! The knowledge transmitted was immense, and yet it was broken down into bite size pieces. The course was informative and motivating. And the Christian woman that Lynne is, made it extra special. Lynne, the trainer, is gifted, and godly, and inspiring. Each session was a treasure. I highly recommend this training. A Hessler

---

"I feel equipped to begin a Christian Coaching practice. The materials are very thorough, and the program is paced nicely. I did the convenient individual sessions which worked best for my schedule. For the money, I got quality time with Lynne per week, inspiring audio and web training, and support resources -- such as client questionnaires and sample contracts for my practice.

The icing on the cake was the marketing resources, and the professional contacts that Lynne recommended as continued education. Lynne is a great mentor, as she herself is a successful coach and business person, and honorable woman of God. I highly recommend Lynne Lee and Breakthrough Academy to any Christian interested in becoming a life coach. Debbie USA

---

"Whether you are a planning to be a coach or not, this training series will help you with your day to day living. If you are a coach, you'll get the added value of some great tools and insight that you can use with your clients." Dr. Jerry Graham, Coach & Trainer
---
You will not find anything of this quality that is more affordable!
If you have questions, I will gladly arrange to speak with you so I can answer your questions and help you decide whether our training is what you need to equip you help people more effectively.
Click on this link to email me your contact details so we can arrange a mutually convenient time to speak.
Simply right click to download What Makes Goals SMART Goals