When we start to see things from God's perspective what we see begins to change.



Suddenly we see possibilities where we saw problems. Things that brought fear no longer have any power to disturb us.

When we're seated with Christ in heavenly places we see more than we could have ever have imagined, and we see it through a different lens. We know that all is well because we are with our Creator, the lover of our soul, the God who does all things well.

Ask God to enable you to see through His eyes, to see what He sees, and to help you respond with faith.

~~~~~~~~~~~~~~~~~~

I've been quiet for a while because the battle has been fierce -- recovering from cracked ribs, suspected heart attack, my husband's continued unemployment, and reluctantly putting our home on the market among other things -- If I'm honest, and I trust I always will be, there are times when I don't have words, times when I don't know what to write, or how to say what's on my heart.

Yet the Lord is good, and His mercies do endure forever. Once again, I'm learning to be still and listen for His voice.

In the midst of turmoil I can say, all is well. The Lord is reminding me that He's always with me, that He holds my hand as I walk through changes...more of that below. First let me share what's coming up...

I already have 2 students enrolled on the next life coach training course starting on 1st December. This is the LAST opportunity to get started with training this year.

We'll be taking a break over Christmas, and you'll be able to start next year full steam ahead.

If you want to wake up each day KNOWING what your next step is - I encourage you to seriously consider joining us for this life coach training class so that you can get crystal clear about things, create a blueprint, and TRANSFORM YOUR OWN LIFE while training to help other people have breakthroughs.

TO REGISTER OR LEARN MORE, VISIT

Christian Life Coach Training

I'm still getting wonderful reviews for my How To Hear God book - if you already have your copy and it has done you good, please take time to leave a review, and consider getting a copy for a friend :)

How to Hear God - Amazon USA

~~~~~~~~~~~~~~~~~~~~~~
Everything Changes
But now...
I think those might be two of my favourite words in the Bible. For me, those two words capture something wonderful, beautiful and essential about the Gospel that it's easy to lose sight of the wonder of.
They also remind me of this card. It's from one of the games that we used to love to play endlessly and noisily with the youth group we led in our twenties, back when our idea of a great way to spend a Wednesday evening was to fill our living room with teenagers and talk to them about Jesus. (Actually that still sounds like a pretty great way to spend an evening to me, but that's another story)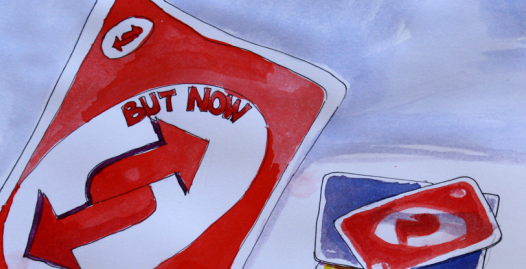 The card means change direction. If anyone plays it, play stops and then goes back the other way, instantly and without question. It turns things around, reverses them – changes everything.

And I love the picture because in it I see what Jesus came to the world (and to me) for: to turn things around, to reverse them and to change everything. You can just imagine what the 'cardboard testimonies' of people who met Jesus in the gospels would have been like:
2I was sick for years and years, but now I'm healed"

"My brother was dead, but now he's alive"

"I was an outcast, but now I'm a treasured friend"

"I thought I knew everything, but now..."
So, back to my favourite words, so that you too can whisper them to yourself and feel their power pulsing in your veins.
But now...
They actually come from the first chapter of Colossians, and they tell you exactly what happened the moment that God looked at you and me, and through Jesus decided to play the ultimate change direction card onto our lives:
Once you were alienated from God and were enemies in your minds because of your evil behavior. But now He has reconciled you by Christ's physical body through death to present you holy in his sight, without blemish and free from accusation— if you continue in your faith, established and firm, and do not move from the hope held out in the gospel. Colossians 1: 21-23
You were alienated, cut off, at a distance, separated, but now - you are brought near.

You were an enemy, but now - you are a friend of God.

You were a foreigner and an alien, but now - you are family.

You were stained, dirty, marked, grubby, but now - you are washed absolutely clean, without blemish, but more than that, you are Holy.

You were guilty, but now - you cannot be accused.
It's an extraordinary card that God has played in your life. The 'but now'. Costly, powerful and irrevocable… and yours to accept.
Like many of you, I've known this is true for ages and ages and ages... But somehow I still struggle to confidently live in the reality of it. I still fall into thinking about myself as grubby and stained and failing, as I was before Jesus rescued me from the dominion of darkness, brought me into the light, hosed me down, gave me a new place to stand and new song to sing.
So, if you're like me, and you need reminding – take five minutes now to remember it again... breathe it in... feel the glory and the power in those two little words:
But now...
Thanks to my friend Ellie Hart for this wonderful picture and inspiring words. You'll find more insights like this on her site http://propheticpostcards.wordpress.com
~~~~~~~~~~~~~~~~~~
If you'd appreciate more regular updates and being able to connect with me more easily, I invite you to join me on Facebook where you'll find daily encouragement and inspiration.
http://facebook.com/biblicallifecoaching
You'll also find help and inspiration on my
How To Hear God website
~~~~~~~~~~~~~~~~~~
If you have questions about Christian life coaching I invite you to listen to this recording. We answer your biggest questions about life coaching and coach training, and give you a taste of the power of coaching - a life coaching exercise that helps you to start transforming your life straight away. You will find the recording here.
Christian life coaching seminar
~~~~~~~~~~~~~~~~~~
Lynne Lee is a Christian life coach and life coach trainer, who helps people to see themselves through God'e eyes and live life as He intended.
Copyright © 2014, all rights reserved. The 5 Minute Life Coach is a publication of Christian Life Coaching Permission is granted to reproduce, copy or distribute this newsletter provided that The 5 Minute Life Coach is kept intact, and this copyright notice and full information about contacting Lynne are included.