You CAN recover from failure and make it work FOR you!



If you missed the free breakthrough training I did, you'll find the replay here
Keys To Unlock Your Breakthrough Replay
NOW is a perfect time to get unstuck and FINALLY unlock your breakthrough — even if you've tried and failed in the past! Don't give up!
I know that 2017 was a tough year for many people... and the truth is that while 2017 had some wonderful highlights, it was a tough year for me too.
There have been times when it looked as though the rug was going to be pulled from under us, times when it looked as though we might lose our home, times when we've had to say goodbye to loved ones too early for our liking because the Lord called them home...
But God is good even though... When we choose to trust Him when circumstances suggest that He's not trustworthy, we can be sure that He WILL make a way where there doesn't seem to be a way.
God promised that He would turn everything to good for those who love Him. That doesn't necessarily mean that He'll rescue us from the situation, but it does mean that He will be with us and there will be redemption in there somewhere.
So I'm choosing to enter 2018 with COURAGE in my heart, with FRESH HOPE, and anticipation of all that our wonderful Father has in store for us.
I truly believe that 2018 is going to be a landmark year, a turning point, and that we'll begin to see many of the things we long for.
I know that THE BEST IS YET TO COME and that with God's help we can and will make 2018 a breakthrough year.
---
Wondering what the Lord is saying about 2018?
I hope you'll accept my invitation to a Free Live Webinar on January 9th. James Goll will be sharing 5 significant things that the Lord has been revealing about 2018 and beyond.
What he has to share will help us to effectively partner with God in prayer and get ready to do what the Lord is calling us to do.
Free webinar: What God is saying about 2018
---
You CAN recover from failure and make it work FOR you.
Today's Coaching Moment talks about how to recover from failure and setbacks and make them work FOR you. You'll find it below.
---
Are you ready for a life makeover?
Because this is the season when so many people set themselves up to fail by making New Year Resolutions that they're unlikely to keep. I've deeply discounted one of my coaching programs.
New Year's Resolutions don't last long. 90% of all people who set goals at this time of year fail within days. If you'd like help to make sure you succeed in 2018, this is an ideal opportunity equip yourself to make LASTING changes without breaking the bank.
You'll find the details here.
I'm ready to lay some solid foundations
---
Today's Coaching Moment
Making Failure Work For You
I know that it can be hard to get back up again when things don't work out; especially when things have gone spectacularly wrong, or you've fallen flat on your face.
It's all too easy to give in to disappointment, or let doubts, or even pride get in the way.
"Patient endurance is what you need now, so you will continue to do God's will...So take a firm grip with your tired hands and stand firm on your shaky legs. Mark out a straight path for your feet..."
When you suffer setbacks, as hard as it may be, I encourage you to press in to God. Fix your eyes on Jesus, ask Him to help you see things from His perspective, get back up again, brush yourself down, and with God's help, find a way forward.
It IS possible to turn failure into success when you look to see what you can learn from the way things turned out, and what you can do differently next time to ensure a different outcome. Failures can be stepping stones to success.
"Failure is only the opportunity to begin again more intelligently." Henry Ford
Ask the Lord to help you see the lesson in the failure and try again, armed with what you've learned from the experience.
The only way of never failing is never to try. If you don't allow yourself to fail along the way, you won't have many successes either.
I encourage you to learn to look on failure as just another rung on the ladder to success. Don't stop at the first locked door, ask God for help and find another way.
Thomas Edison said,
"I have not failed. I've just found 10,000 ways that won't work. .. I am not discouraged, because every wrong attempt discarded is another step forward."
Ask the Lord to help you see the end from the beginning, and to examine the failure for feedback.
If you are weary, frustrated, tired or worn out, take a look at Psalm 23 and Psalm 91.
Remind yourself of where you're headed. Get back up again. Dust yourself off, learn from failures, do something differently and try again.
When faced with adversity, push through. When you fall, get back up again. You can have a fresh start any time you choose.
Be reassured that the best is yet to come...
"Keep your eyes on Jesus, who both began and finished this race we're in. Study how He did it. Because He never lost sight of where He was headed—that exhilarating finish in and with God—he could put up with anything along the way: Cross, shame, whatever.

And now He's there, in the place of honour, right alongside God. When you find yourselves flagging in your faith, go over that story again, item by item, that long litany of hostility He ploughed through. That will shoot adrenaline into your souls!" Hebrews 12:2-3 MSG
---
Here is where you will find the
I recommend you watch TODAY and take action on what you learn.
You will discover:
The one question you need to ask every day
The big thing that's holding you back and what to do about it.
How to stop procrastinating and get things done.
What you need to stop doing
The power of small decisions
How to keep going when the going gets tough!
... and much, MUCH More!
Blessings to get unstuck and make 2018 a breakthrough year!
Lynne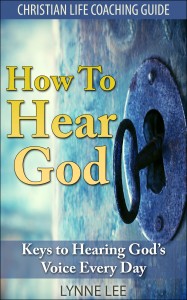 If you'd like help with hearing God more often and more clearly so that you can live with His wisdom, I wrote How To Hear God with you in mind.

My prayer is that you will be inspired, encouraged, equipped to reach for more, and walk in the fullness of life that Jesus won for you as you learn how to hear His voice.

If you'd appreciate more regular updates and being able to connect with me more easily, I invite you to join me on Facebook where you'll find daily encouragement and inspiration.

https://www.facebook.com/LynneLeeChristianLifeCoaching
How you can support this ministry
You can help me to help others by PRAYING as the Lord leads. I need wisdom, support, and encouragement to be able to continue serving the many people from all over the world who benefit from the resources they find on my coaching site.
Copyright © 2017, all rights reserved. The 5 Minute Life Coach is a publication of Christian Life Coaching Permission is granted to reproduce, copy or distribute this newsletter provided that The 5 Minute Life Coach is kept intact, and this copyright notice and full information about contacting Lynne are included.