Help is on the way...



In the last edition of The 5 Minute Life Coach, I asked,
"What are you going to DO to get unstuck?"
We've all had areas in our life that we've said we're going to change, even areas we've been DETERMINED to change… and we've set out with very good intentions.
Whether it's our relationships, our spiritual journey, our business, our finances, our career, our health, writing a book, or something else – we all have something we want to improve, or an area we want to breakthrough in.
But for one reason or another it remains elusive, we never actually do it.
Maybe we pull back too soon. Maybe we don't follow through on our good intentions. Maybe we make excuses, or even sabotage the breakthrough we say we long for before we even have an opportunity to get started!
Whatever the reason, we just don't seem to be able to breakthrough and get unstuck.
The good news is that
Failure is not the end of the road, it isn't a verdict. We can learn a lot from failure, When we allow failure to be a teacher it's a path forward.
Mistakes aren't something to be embarrassed about, they're steps on the path to success. When you look at the lives of people we hold in high esteem you'll find that failure litters their path... what makes the difference is that they pressed through, they didn't stay stuck, they didn't give up!
The way you approach your obstacles or goals, your beliefs about who you are, your life, your situation, AND your mindset... are the foundation for success or failure.
Aligning with God, agreeing with Him, saying the same things that He says about you and circumstances, tapping into His strategies, and partnering with Holy Spirit... are the big keys that create the atmosphere and environment that fuels lasting change, and enables you to live the life you want to live rather than the one you're used to living.
I don't think the saying, God helps those who help themselves, is in the Bible!

But Scripture has a lot to say about how to get through difficult seasons, and times when you feel perplexed or stuck, or wrongly done to.

There are seasons when things go smoothly and the road ahead is clear; and there are times when things don't come so easily and we need to press in, and break through obstacles to take hold of what we're waiting and hoping for.

Here is where you will find the

I recommend you watch TODAY and take action.

I shared the keys you need to unlock your breakthrough... AND powerful techniques you need to help you get past the roadblocks and finally walk in your destiny.

You'll find two VERY special offers for my upcoming training which expire in the next few days, so make sure you watch the replay now. (I extended the first deadline to midnight on Sunday to make sure that you don't miss out)

Here is what one of our participants had to say
"Today's Webcast was amazing. Lynne Lee is such a clear communicator... line upon line."
Get ready to takes notes because I share lots of really helpful strategies to help you get unstuck.
I shared practical strategies and tools—plus the wisdom to know how to apply them in your life!
Here's a sample of some of what I shared:
How do I keep going when there are big roadblocks?
How do I get past disappointment?
How do I stay focused?
How do I stay on track?
You will discover:
The one question you need to ask every day
The big thing that's holding you back and what to do about it.
How to stop procrastinating and get things done.
What you need to stop doing
The power of small decisions
How to keep going when the going gets tough!
... and much, MUCH More!
Keys To Unlock Your Breakthrough Replay
You are welcome to refer family and friends to this replay while it's available.
Choose to GIVE THE GIFT OF BREAKTHROUGH to yourself and to others.
"If you're going to make a real difference, you first need to break through in your own life."
Blessings to get unstuck and unlock your breakthrough!
Lynne
---
"It's not only what you do, and what you say, it's how you THINK about yourself, and other people, and circumstances that make a difference.."
Lynne Lee
---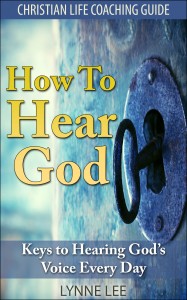 If you'd like help with hearing God more often and more clearly so that you can live with His wisdom, I wrote How To Hear God with you in mind.

My prayer is that you will be inspired, encouraged, equipped to reach for more, and walk in the fullness of life that Jesus won for you as you learn how to hear His voice.

If you'd appreciate more regular updates and being able to connect with me more easily, I invite you to join me on Facebook where you'll find daily encouragement and inspiration.

https://www.facebook.com/LynneLeeChristianLifeCoaching
How you can support this ministry
You can help me to help others by PRAYING as the Lord leads. I need wisdom, support, and encouragement to be able to continue serving the many people from all over the world who benefit from the resources they find on my coaching site.
Copyright © 2017, all rights reserved. The 5 Minute Life Coach is a publication of Christian Life Coaching Permission is granted to reproduce, copy or distribute this newsletter provided that The 5 Minute Life Coach is kept intact, and this copyright notice and full information about contacting Lynne are included.