May all that has become noise in you, become music again.



Psalm 139:14, says we're fearfully and wonderfully made.
What does that mean to you, that you're fearfully and wonderfully made?
We're made particularly, designed individually, we're not just carbon copies. God made us very intentionally; He had significant purpose and destiny in mind for each one of us. No exceptions!
God had good works in mind for you before you were born; YOU were created as a solution to a problem that God knew was going to exist.
That's worth thinking about... you were created to be part of the solution to a problem that God knew was going to exist.
YOU can do something that no one else can do in the way you do it... in a way that is totally unique to you. Someone may have a similar personality or similar gifts, but they won't express them in the same way as you.
They won't think the same way you do. They won't have your unique combination of experiences and intelligence. You are uniquely you.
You are unique; unique in terms of your purpose; unique in terms of the dreams that God has given you; unique in terms of your destiny, and your calling, and your assignments here on earth.
Like Esther, YOU are here for such a time as this! You are on earth to influence, dream, design, create, solve, invest, give, build, pray and intercede, to make a difference.
God knew you were going to live in this generation, in this time in history, in the place you were born, to your particular parents, in your particular circumstances. You are part of a much bigger puzzle than you recognize, and you're an IMPORTANT part of it.
Ephesians 2:10: says,
"We are God's workmanship created in Christ to do good works which God prepared in advance for us to do."
You have important assignments.
There are particular people that you are destined to influence and impact. God has all kind of things in mind for you. Ask Him to show you what they are, and then do some dreaming with God, and step out in faith.
If you'd appreciate some help with this, please accept my invitation to a no cost, live online seminar with me, where I will help you to discover how to give birth to the dreams God has planted in your heart.
GO HERE to register for "The Bridge To Your Future"
During this seminar, I will be sharing about
How to create an environment that supports your calling and your destiny
Identifying the people who can help you as you journey towards making your God given dreams a reality
The extraordinary power of blessing
Identifying the next steps for you
And much more...
I do hope you will choose to join me on this live broadcast so that you can continue to explore the amazing future that God has planned for you.
Blessings to dream with God and fulfil your destiny!
Lynne
P.S. If you haven't already reserved your place, please
GO HERE to Register NOW! It's TODAY!
Everyone who registers for the live broadcast will receive access to the replay. This includes those who can't attend the live event.
You can even register AFTER the webinar is over and still receive access to the replay.
---
PPS Time is running out on the special offers I announced last week...
This is where you'll find
The Keys to 4 VERY special life changing offers
Please feel free to share this issue of The 5 Minute Life Coach with your friends so that they can be blessed too.
Be blessed to be a blessing, and know that I thank God for YOU!
Lynne
---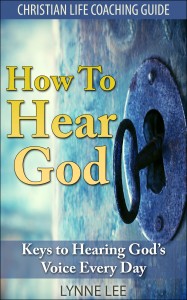 If you'd like help with hearing God so that you can live with His wisdom for everyday life I wrote How To Hear God with you in mind. My prayer is that you will be encouraged, equipped to reach for more, and walk in the fullness of life that Jesus won for you.
If you'd appreciate more regular updates and being able to connect with me more easily, I invite you to join me on Facebook where you'll find daily encouragement and inspiration.
https://www.facebook.com/LynneLeeChristianLifeCoaching
How you can support this ministry
You can help me to help others by PRAYING as the Lord leads. I need wisdom, support, and encouragement to be able to continue serving the many people from all over the world who benefit from the resources they find on my coaching site.
Lynne Lee is a Christian life coach and life coach trainer, who helps people to see themselves through God'e eyes and live life as He intended.
Copyright © 2016, all rights reserved. The 5 Minute Life Coach is a publication of Christian Life Coaching Permission is granted to reproduce, copy or distribute this newsletter provided that The 5 Minute Life Coach is kept intact, and this copyright notice and full information about contacting Lynne are included.