"There is no panic in heaven! God has no problems, only plans." Corrie Ten Boom



I received many encouraging responses after the last edition of The 5 Minute Life Coach, I'm glad you found the tips about having difficult conversations helpful. I have more insightful help for you this week... a no cost online seminar with James Goll
How to Thrive In Turbulent Times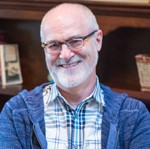 With fear, slander, riots, division, and unrest at every turn, what are we to do? It sometimes seems as though the world as we know it is unraveling before our eyes!
Scripture teaches us that the shaking and glory will come together. But what are we to expect? How do we prepare in these turbulent times? How do we thrive even though?
To get to the right answers you need to be asking the right questions! The sons of Issachar knew the times and the seasons, and they taught the people of Israel how to respond and live appropriately.
Perhaps the question we need to ask is not, "What is coming net?" but rather "How should we now live?"
Jesus said that in the end times men's hearts would fail for fear. But He has much more than that to say to His disciples. He also gave them a solid foundation, hope, and the promised Holy Spirit to teach them and remind them of all He had said.
We have a choice during turbulent times. We can cultivate a culture of FAITH or a culture of fear.
Which will you choose to cultivate? Fear or faith?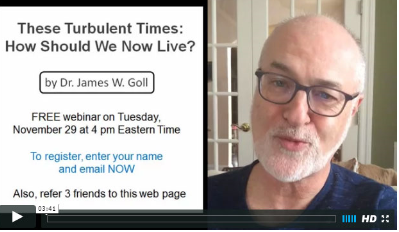 Haggai 2 shows us a mirrored pattern between the natural temple in Jerusalem and the spiritual temple, the body of Christ. It is very relevant to us today. They both:
Started out in grandeur
Faced destruction or decline
Reemerged in strength
Received prophetic declaration during uncertain times, "The Glory Will Be Greater!"
In place of fear, God wants you to receive the strength and courage to become a person of GREAT FAITH who will STAND STRONG no matter what comes.
God wants you to receive spiritual insight, HIS perspective, and INSTRUCTION that will ANCHOR YOU IN HOPE, and encourage and equip you to LIVE AS A BRIGHT LIGHT in the darkness of the world around you.
In this no cost online seminar you will discover:
The enemy's favorite tactics and how to overcome them
Ways to use the Word of God to stymie the effects of delay
How to recognize deception and overcome the lies of the enemy
Ways to stay focused and grounded in the midst of uncertainty
How to break the power of disappointment and depression
How to live as a victorious overcomer in Turbulent Times!
This is where you go to reserve your place.
If the time doesn't work for you, register anyway and we'll send you a link to the replay.
Please share this edition of the 5 Minute Life Coach with your friends so that we can partner together to cultivate an atmosphere of faith.
PS Time is running out on the special offers I announced last week... they are designed to help you to transform YOUR life AND the lives of the people the Lord brings across your path.
They will help you to BECOME who you really are in Christ, DO what you are called to do, and be equipped to effectively help the people God brings to you.
The Keys to A New You
A 16-part email coaching program that helps you transform your life from the INSIDE out ─ 60% OFF! Just $40 or £30
Discover Your Life Purpose
So you can DO what you were put on earth to do and fulfil your calling ─ an inspiring 6-week coaching program LESS THAN HALF PRICE! Just $100 or £80
Christian Life Coach Training
This training program is already extremely good value BUT in the spirit of giving, for a very limited time, I am offering you $100 (£80) OFF the price AND my 8 week How to Hear God Coaching Program FREE as a bonus!.
There has never been a better time to equip yourself to help people to breakthrough and transform your own life at the same time.
AND FOR GOOD MEASURE...
If you are already a trained life coach or counsellor... you can train as a Christian Marriage Coach and get $100 (£80) OFF the normal price!
I have NEVER before offered ANY discount for the marriage coach training and I doubt I will again.
This is where you'll find the
Keys to 4 VERY special life changing offers
I encourage you to take advantage of at least one of these offers and join me in transforming the world, ONE kind act, and ONE person at a time.
Please feel free to share the page with your friends so that they can be blessed too.
Be blessed to be a blessing, and know that I thank God for YOU ҉
Lynne
---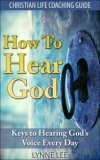 If you'd like help with hearing God so that you can live with His wisdom for everyday life I wrote How To Hear God with you in mind. My prayer is that you will be encouraged, equipped to reach for more, and walk in the fullness of life that Jesus won for you.
If you'd appreciate more regular updates and being able to connect with me more easily, I invite you to join me on Facebook where you'll find daily encouragement and inspiration.
https://www.facebook.com/LynneLeeChristianLifeCoaching
How you can support this ministry
You can help me to help others by PRAYING as the Lord leads. I need wisdom, support, and encouragement to be able to continue serving the many people from all over the world who benefit from the resources they find on my coaching site.
Lynne Lee is a Christian life coach and life coach trainer, who helps people to see themselves through God'e eyes and live life as He intended.
Copyright © 2016, all rights reserved. The 5 Minute Life Coach is a publication of Christian Life Coaching Permission is granted to reproduce, copy or distribute this newsletter provided that The 5 Minute Life Coach is kept intact, and this copyright notice and full information about contacting Lynne are included.